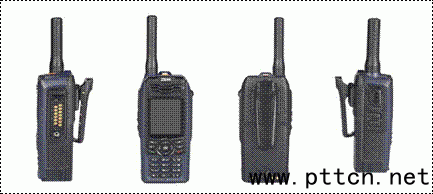 Features
Professional appearance design and IP54 protection:

The product adopts professional appearance design. The spacing between keys meets customer requirements, reducing the possibility of mis-pressing with gloves on. The emergency key and PTT key enable quick operation. The product provides IP54 protection and meets military reliability requirements for prevention against shock, vibration, and solar radiation. This enables the product to adapt to various adverse operating environments.
Professional support for accessories:

The product provides professional 13-pin interfaces for connecting intercom headsets and hand microphones.

Professional acoustic cavity design and perfect audio performance:

The product adopts professional acoustic cavity design, generating clear, loud, and high-fidelity voice and meeting the application requirements in noisy operating environments.
Enriched trunking functions:

The product provides trunking intercom functions, including the individual call, group call, broadcast call, emergency call, call to the dispatch console, PTT speed dial, waiting group, and fail-soft call.

Ultra-long standby time:

The product provides low power consumption and uses large-capacity batteries to extend the standby time.
Technical Specifications
Network support

CDMA

Frequency band

800M: 824-849 MHz for transmission, 869-894 MHz for reception

450M Block A: 452.5-457.475 MHz for transmission, 462.5-467.475 MHz for reception

450M Block B: 452.0-456.475 MHz for transmission, 462.0-466.475 MHz for reception

450M Block L: 410.0-414.975 MHz for transmission, 420.0-424.975 MHz for reception

1.9 G: 1850-1910 MHz for transmission, 1930-1990 MHz for reception

Power

Maximum transmission power: 23 dBm

Dimensions

132 mm x 54 mm x 34 mm

Weight

248 g (with the battery)

Display

2.0'' TFT LCD, 176 * 220 pixels

Operating system

BREW

Battery

1700 mAh

Operating temperature

-30ºC to +60ºC

Storage temperature

-40ºC to +80ºC

Humidity

5%-95% RH (non-condensing)

Protection class

IP54

Side key

PTT key, upper and lower side keys, and emergency key

Camera

None

External interface

13-pin USB (USB 2.0)

Headset interface (13-pin USB interface, compatible with PTT headsets)

Bluetooth

Not supported

NFC

Not supported

WLAN

Not supported

FM

Not supported

GPS

Supported

Extended storage

Micro SD, providing a maximum capacity of 8 GB

Sensor

Not supported

Charging mode

Battery charging stand and USB

Item

Basic Specifications
Intercom Functions
Individual call

Group call

Broadcast call

Emergency call

Call to the dispatch console

Temporary group call

Group auto update

Late entry and PTT floor request/preemption/alert tone

Inter-group call

PTT speed dial

Waiting group

Fail-soft call

GPS locating

(中国集群通信网 | 责任编辑:陈晓亮)